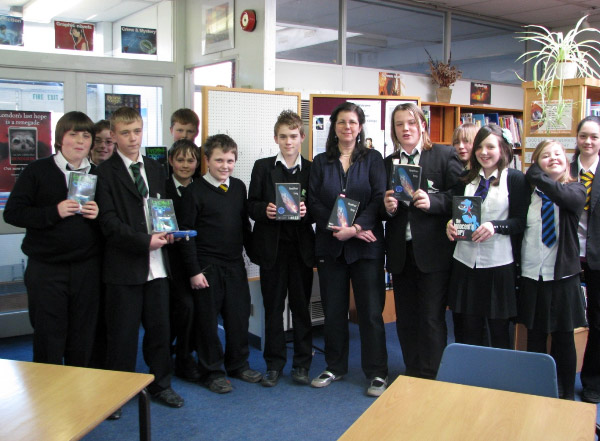 Nicky is comfortable giving small creative writing workshops for 15 or talking to 250 people. She will always tailor her presentation to the needs of the group that invites her and she is happy to talk about her novels, the creative process in general (particularly the importance of story), plus her adaptations for screen, theatre and opera.
Most talks are 50-60 mins long and include time for Q&A.  Nicky prefers creative writing workshops to be a minimum of one and a half hours – with breaks as necessary.
Talks
For Years 5-8:
Ideas and How you Get Them – The inspiration behind Feather Boy (Nicky really did go in that spooky house….) and/or The Flask (what magical thing is in this bottle?) and/or Island (the true tale of erupting graves on the Canadian island of Herschel…).
The Feather Boy talk includes clips from the BAFTA award winning BBC film of the book, which highlights how things change from page to stage/film. The Island talk includes discussion of climate change and man's responsibility in nature, with stills from the National Theatre production and a soundtrack of marine creatures under threat.
For Years 9 up:
Book talks centred around Nicky's YA books
GemX (a love story for the genetically modified…);
The Innocent's Story (what would drive someone to be a suicide bomber?);
or Knight Crew (a re-telling of the King Arthur legend set in contemporary gangland).
Knight Crew was made into an opera premiered at Glyndebourne. Knight Crew talks can include clips from the film of the show. Most teenagers find this considerably more interesting than they thought they would!
Creative Writing Workshop (all ages)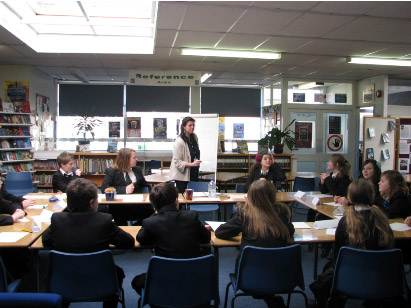 Duration: 90 mins
Nicky says:
The ideal workshop number (where I can actually give individual attention to every student) is 15. It remains pretty successful (less attention but good results) up to about 23-25 max.It works like this:
1. I spend approx 40-50mins doing a writing  'tool-kit'. ie explaining what you need to think about before you start writing – from first sentences, to language and points-of-view.
2. We storyboard for 10 mins. ie examine how to push at the boundaries of a story.
3. The students have 10 mins actual writing time.
4. We spend the last half-hour sharing the writings – it's in this 'de-brief' that most of the light bulbs go off.
I can just deliver the hour 'tool-kit' session to larger groups, but prefer not to because it's only in the actual writing (and the editing of that writing – which is actually most of what a real writer does) that the students really begin to understand how make and evaluate work.
General sessions
1. Book signing. In conjunction with a local bookshop or Nicky will bring a suitcase of books and provide a template letter to go to parents in advance.
2. Interview. Nicky is happy to give any budding school journalists an interview.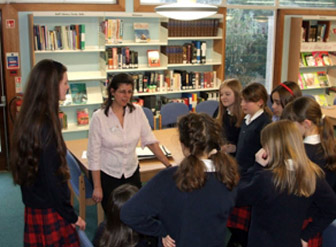 3. Meet the Book Club. Nicky is happy to host an informal question/answer session with a small group of librarians, bookworms etc.
4. Careers Talk. As well as being a writer Nicky has worked in publishing, the arts and television. Jobs have included: Associate Director of Talks at ICA; Co-founder and Co-Director of Performing Arts Labs (a charity dedicated to training writers for stage, screen and opera); researcher for Channel 4's VOICES programme and on-screen presenter for BBC2's documentary series LABOURS OF EVE. A talk about how to make a life in writing and the arts.
Drama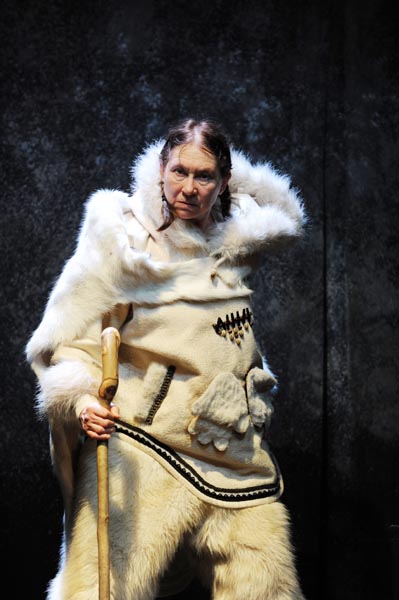 1.   From Page to Stage (for GCSE/A-level drama students). Nicky's play Island (about ice bears and the nature of reality) premiered at London's National Theatre in 2012. Using this as a model, a session on how a play develops from initial idea, through re-writes to working with directors/designers/actors, the rehearsal process and final performance. In conjunction with drama staff, this can include improvisations around the script.
2.   Adaptation: Film/Theatre/Opera – the process of adapting book to film; book to opera; play to novel etc. Including stills from Island and film footage of Glyndebourne's Knight Crew opera and BBC's Feather Boy film. The impact on story of different media.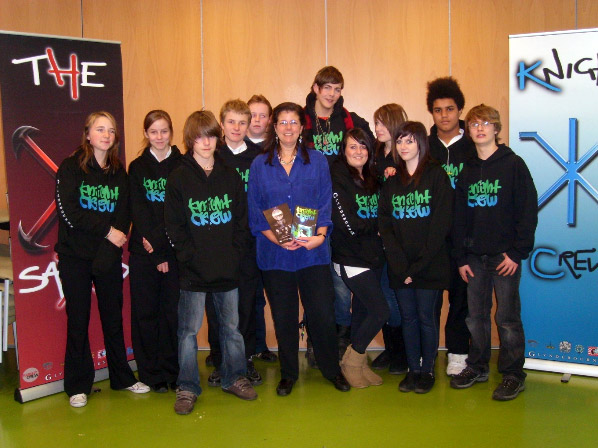 For further information please see the Contact page.