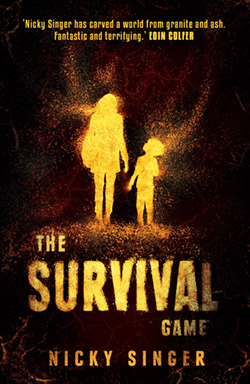 Paperback: 384 pages
Publisher: Hodder
Year: 2018
ISBN: 978-1444944532
Waterstones Amazon
Do you want to have your say in your climate future?
Join the conversation here: #ChooseLoveforSurvival
This boy is not my responsibility. Tomorrow I will leave him behind. He will not be able to keep up and, even if he did keep up, he won't make it across the border. He won't get to safety. It is stupid to share resources with people who aren't going to make it.
In a world full of checkpoints and controls, can love and hope defy the borders? A searing, timely story, as arresting as it is beautiful.
Mhairi Anne Bain owns only two things: a gun with no bullets and her identity papers.
The world is a shell of what it once was. Now, you must prove yourself worthy of existence at every turn, at every border checkpoint. And if you are going to survive, your instincts will become your most valuable weapon.
Mhairi has learnt the importance of living her own story, of speaking to no one. But then she meets a young boy with no voice at all, and finds herself risking everything to take him to safety.
And so Mhairi and the silent boy travel the road north. But there are rumours that things in Scotland have changed since she has been away. What Mhairi finds there is shocking and heart-breaking, but might finally re-connect her to her sense of self and to the possibility of love.
An extraordinary story about survival and what it costs, about the power of small kindnesses to change everything.
Already sold in 7 countries and provoking reactions such as this one from Germany:
What a story, what a protagonist, what an intense, impressive, extraordinary book!
Mhairi's story is one that immediately catches you. Following her path, her pain is the reader´s pain, her unbelievable, unbearable loss is the reader´s loss – and her hope is becoming the reader´s hope. You can´t help but feel personally involved in her story.
Being angry at her for acting as dismissively and harshly as she does (especially with the little boy) at the same time understanding perfectly well the motivation of her behaviour. I did not read a YA title with a protagonist as individual, strong and disturbing as Mhairi within a long time. Her fight for a living, for her identity, for her belonging, her way of handling her past, her powerful voice make this story an unforgettable one. It takes over your heart and mind and provokes you to reflect.
A powerful story. It's searingly beautiful but both terrifying and deeply sad. …But The Survival Game isn't just beautifully written…it's raw and energetic, lyrical and beautiful, intense and passionate. It also asks important questions and requires the reader to interrogate her or himself…It's an absolute tour de force.
THE BOOK BAG
Recent news about the treatment of refugee children makes this a particularly pertinent read. Singer's gripping and provocative book poses big ethical questions, and has an ending likely to polarise readers.
Fiona Noble THE OBSERVER