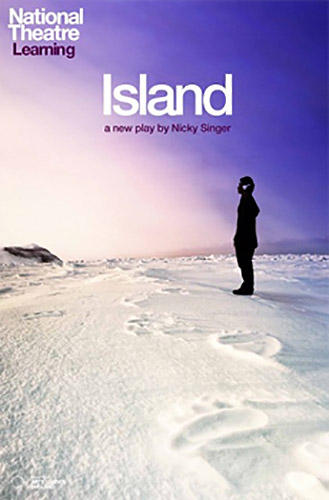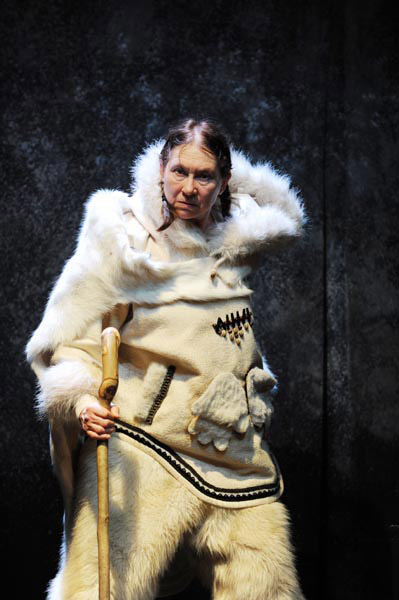 Island – a new play for young audiences
Now
a novel
illustrated by Children's Laureate Chris Riddell…
In the middle of the Arctic Ocean lies an island where it is always day. The ice groans and cracks, the ground shifts under your feet, and skies flash with ice storms that freeze flesh in thirty seconds flat. Little wonder Cameron is reluctant to spend a week of his school holidays there.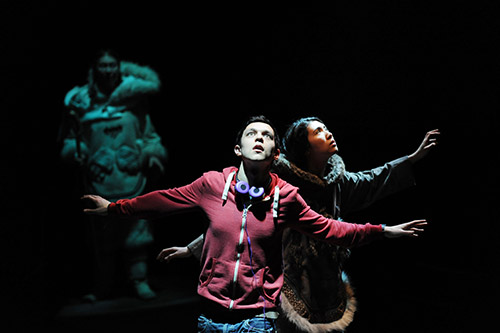 Cut off from the rest of the world on this deserted island, he has no computer or phone and  his iPod is fast running out of battery. Cameron can either assist with his mother's scientific research or leave camp and explore. Armed with bear spray to ward off any danger, he sets out to see if the island is, indeed, uninhabited.
'No one's an island, Cameron. You, your parents, London, Qikiqtaruk, the whales, the guillemots, the living, the dead. We're all connected. If one moves we all move.'
The National Theatre's terrific new play for over-eights is set on what we call Herschel Island in Northern Canada (the Inuit have another, much older name for it). The one-hour  play explores the impact of global warming – think Frozen Planet brought to life for children with characters the audience identify with and care about.  Island explores the conflict between scientific and metaphysical truth, colonialism, the exploitation of other people's environment, the role of religion and the power of storytelling. So it isn't short of issues for children to think about afterwards, but at the same time it avoids any sense of worthiness and stands up well as a piece of compelling, moving drama. Independent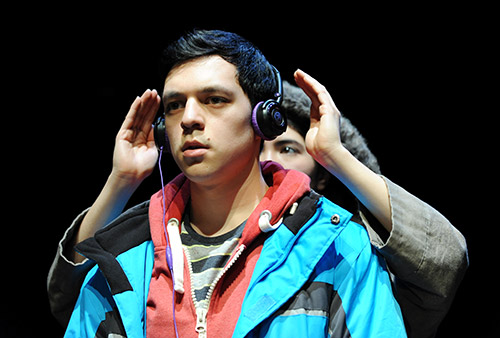 Sound designer Tom Gibbons made the incredibly haunting soundscape for Island, the play.
Listen to a sample here. Be patient, it begins quietly, but beware polar bear roar…

How I came to write Island:
Once upon a time the National rang me up and asked if I wanted to write a play. There was a silence my end of the phone. 'You're not going to say no?' 'Well,' I began, 'you think I know how to write a play because of 'Feather Boy' the musical and 'Knight Crew' the opera – but those were both adaptations of my novels. I've never actually written a play before.' 'A week,' they said. 'You can have a week to think about it.'
As luck would have it, I spent that week in Morocco visiting an old friend. One morning at breakfast, his daughter Fan began talking about a trip the family had made on a previous posting to Canada. They'd travelled with a permafrost scientist to an arctic island called Herschel. On that bright sunshiny Moroccan terrace, Fan talked of blizzards and whaling boats stuck in ice; of shallow graves and things which should be buried being uncovered;, of bear prints in the sand and twenty-four hour daylight. 'I felt,' she continued (in a phrase that went straight into my notebook) 'awake for possibilities.'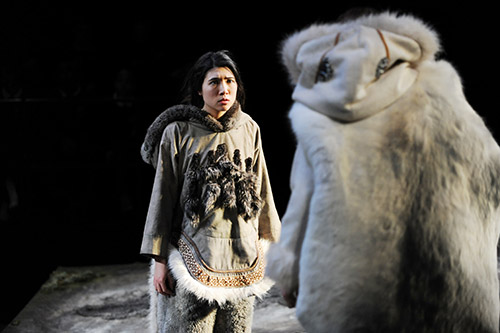 I returned to England and phoned the theatre: 'There's this Grandmother,' I said, 'and two kids and they're on this island in the middle of nowhere and there's an ice storm and erupting graves and probably a polar bear. And the whole thing is full of sounds, wind and waves and icebergs and krill and whale song. What do you think?' 'That you'd better start straight away,' they replied.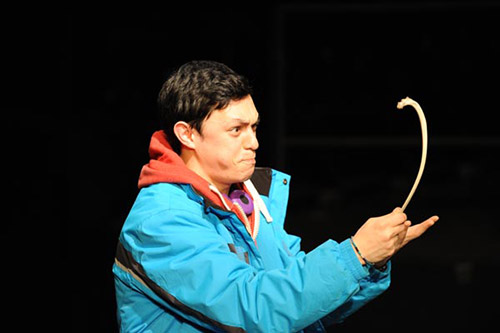 The show played in the National's Cottesloe Theatre and in 40 London schools
What the audience said:
My favourite moment in the play was the dream because it's really emotional and it touches your heart about what's happening.
A nine year old child
An authentic portrayal of many issues that Inuit and Inuvialuit face in their encounter with western society: How do we know what we need to keep and what we can leave behind as time passes? How do we know what of nature we must preserve at all costs, and what can be displaced by development? How do we communicate meaning between generations?'
Professor Christopher Burn, Canadian permafrost scientist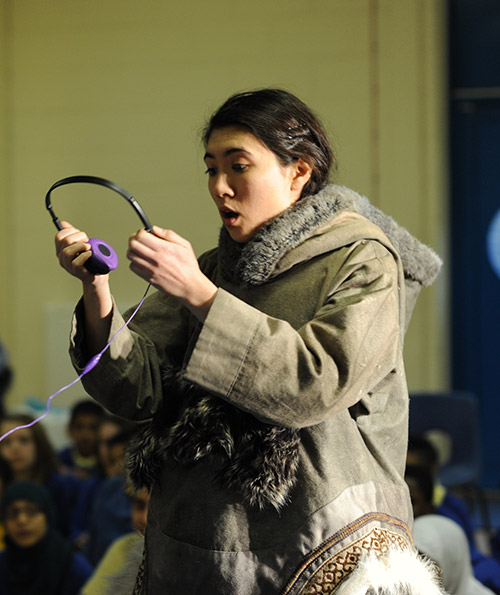 Although the story had many layers to it the children surprised me by how well they understood it and also were able to unpick some of the higher level ideas without help. Acting was excellent and the children were gripped throughout.
A London class teacher.
The word to describe the show is 'Breath-taking'. …Through the amazing writing, acting and technical skills you managed to transport us all from the comfort of our 'westernised world', into the world of Inuluk and her island. We all had a great discussion after the show, identifying how we have caused changes within our environment – and the children even said that when Cameron listened to the music at the end of the performance it 'Wasn't right' and that they wanted to hear the sound of the whales! It even impacted them in the playground, when lining up for class, they stopped and listened to the bird song despite the loud thumping of the heavy road traffic behind them! It was a truly wonderful production and the quality of the children's written work as hugely improved thanks to the work of you all- thank you so much!
Judith Barber, Assistant Head Teacher, London